Scroll down to learn all the icons and functionality of Argo when navigating the waters.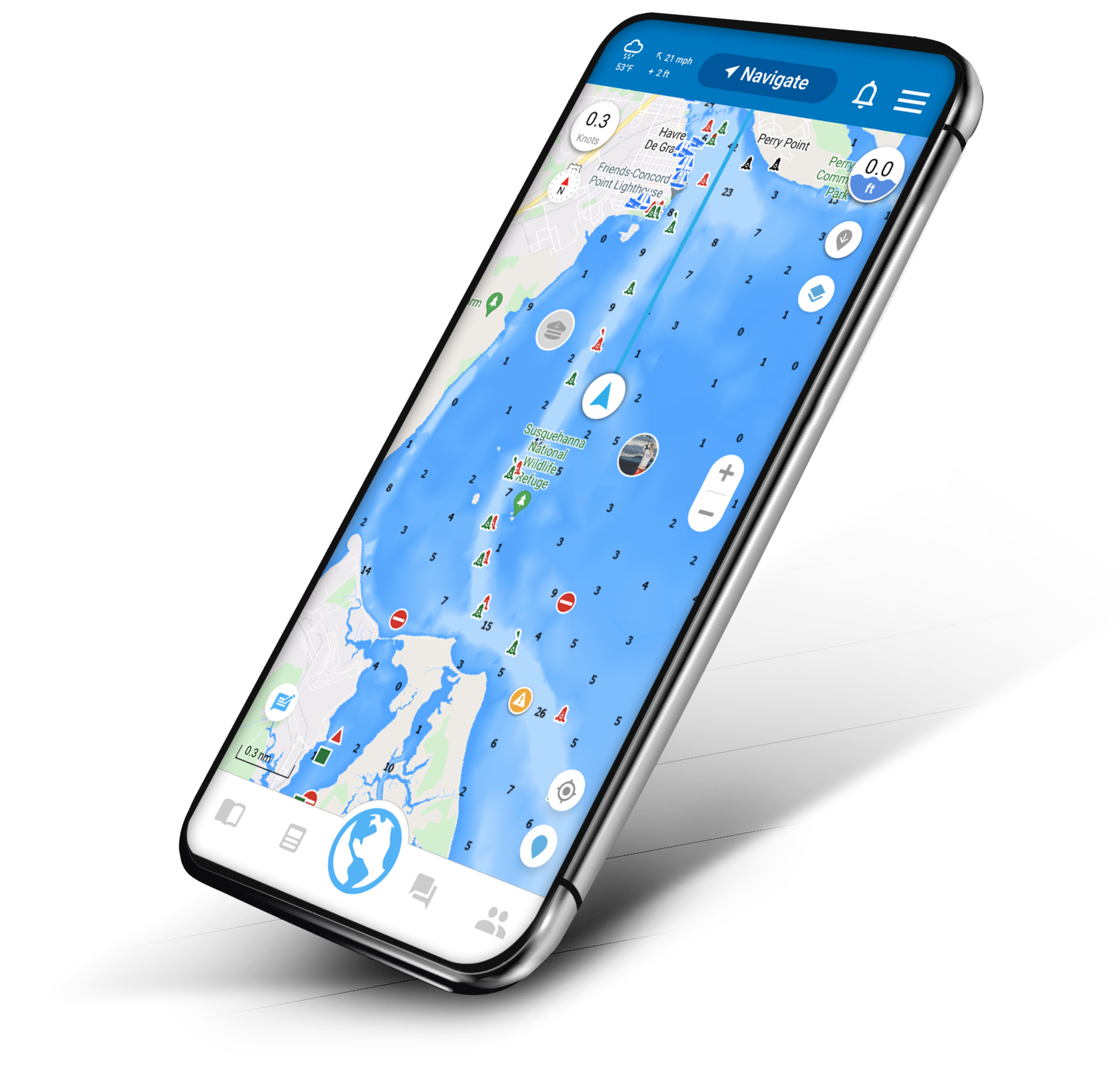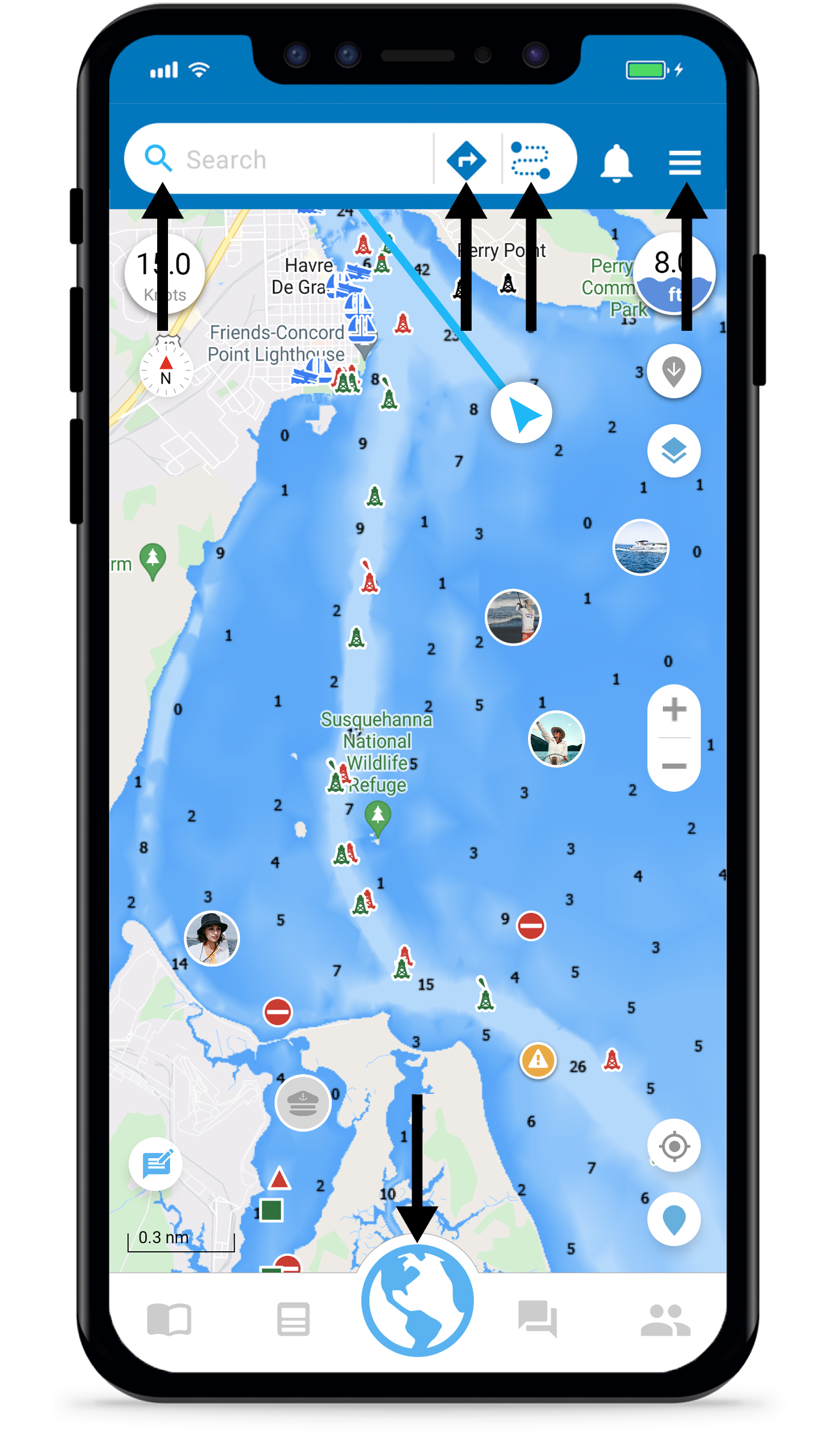 HOME
Press this icon to return to the map screen.

MENU/PROFILE
Tap this icon to open your account, settings, view support pages, or manage your profile. From here, you can add a profile photo, your boat info, your affiliations and set up your interests.

SEARCH
Search for a place to read reviews from other boaters, create a route, save it to your Captain's Log, and more. Learn more…

ROUTING
Use Autoroute to let Argo create a route that's customized to your boat's draft. Or manually plot your route. Learn more…

TRACKS
Record your track without having to start a voyage and get trip information along the way, such as time, distance, average speed and estimated fuel used. Learn more…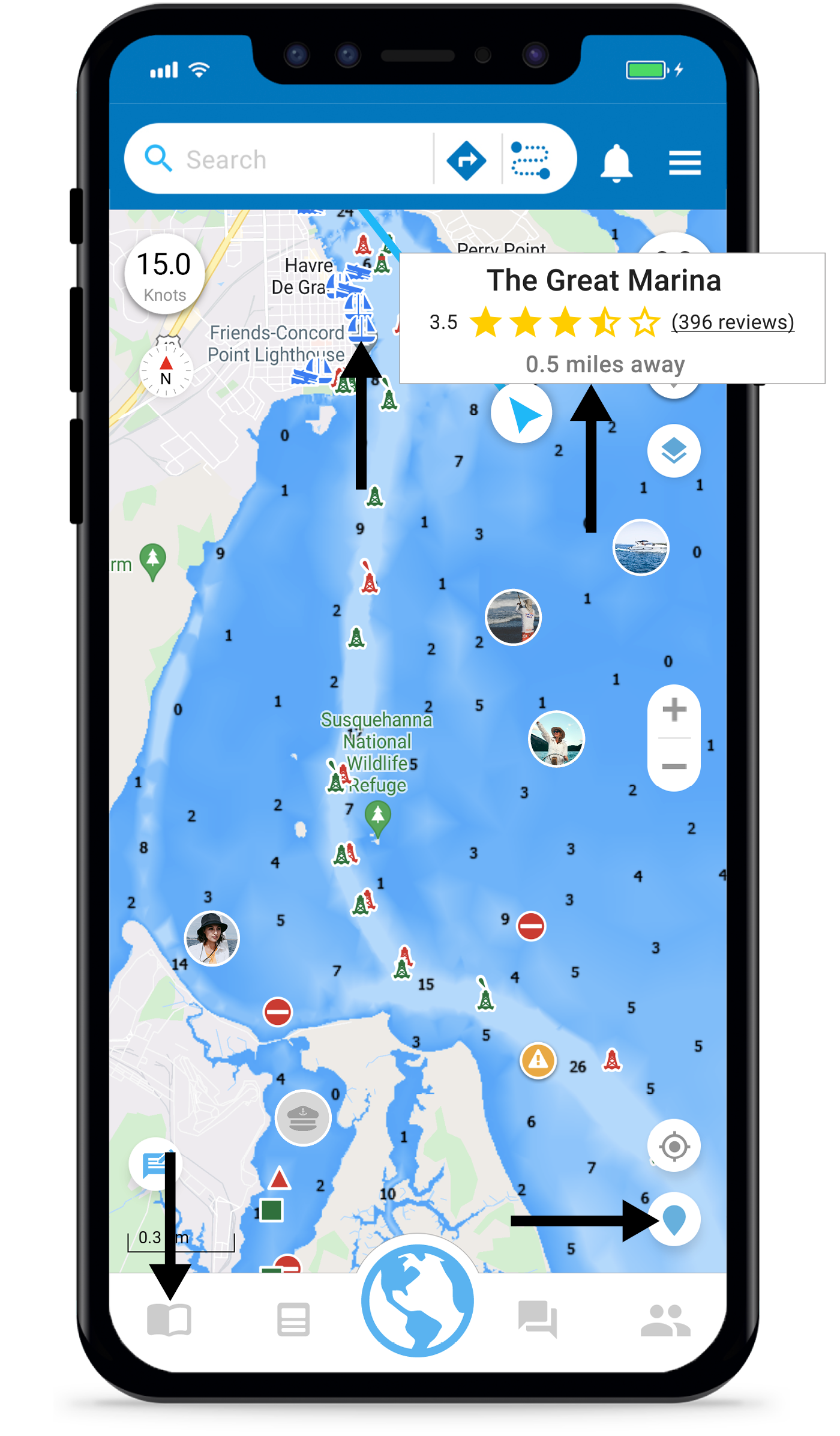 CAPTAIN'S LOG
View all of your previous voyages and places visited. Add photos and comments. Learn more…

REPORT PINS
Tap on a report pin to get updates on hazards and more. Learn how to add a report pin below. Learn more…

MAP DATA
Learn more about the different types of buoys, beacons, and location icons on your map. Learn more…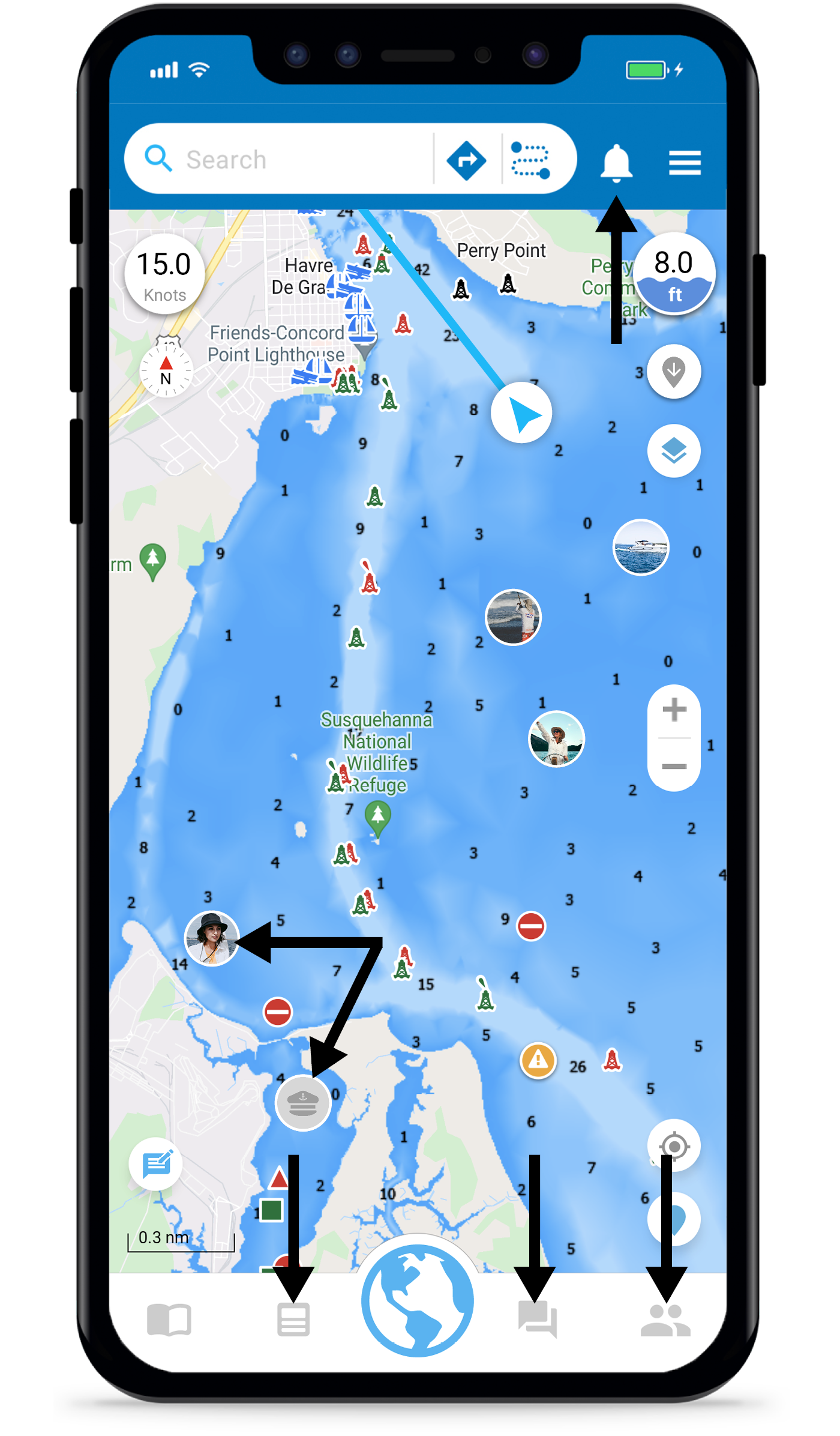 FRIENDS
Go to the Friends tab to invite contacts, add friends, and accept friend requests. Learn more…

SOCIAL FEED
Share photos, voyages, favorite places and more with your friends. Learn more…

NOTIFICATIONS
Notifications about friend requests, Ahoys as well as likes/comments on both your social feed posts and report pins. Learn more…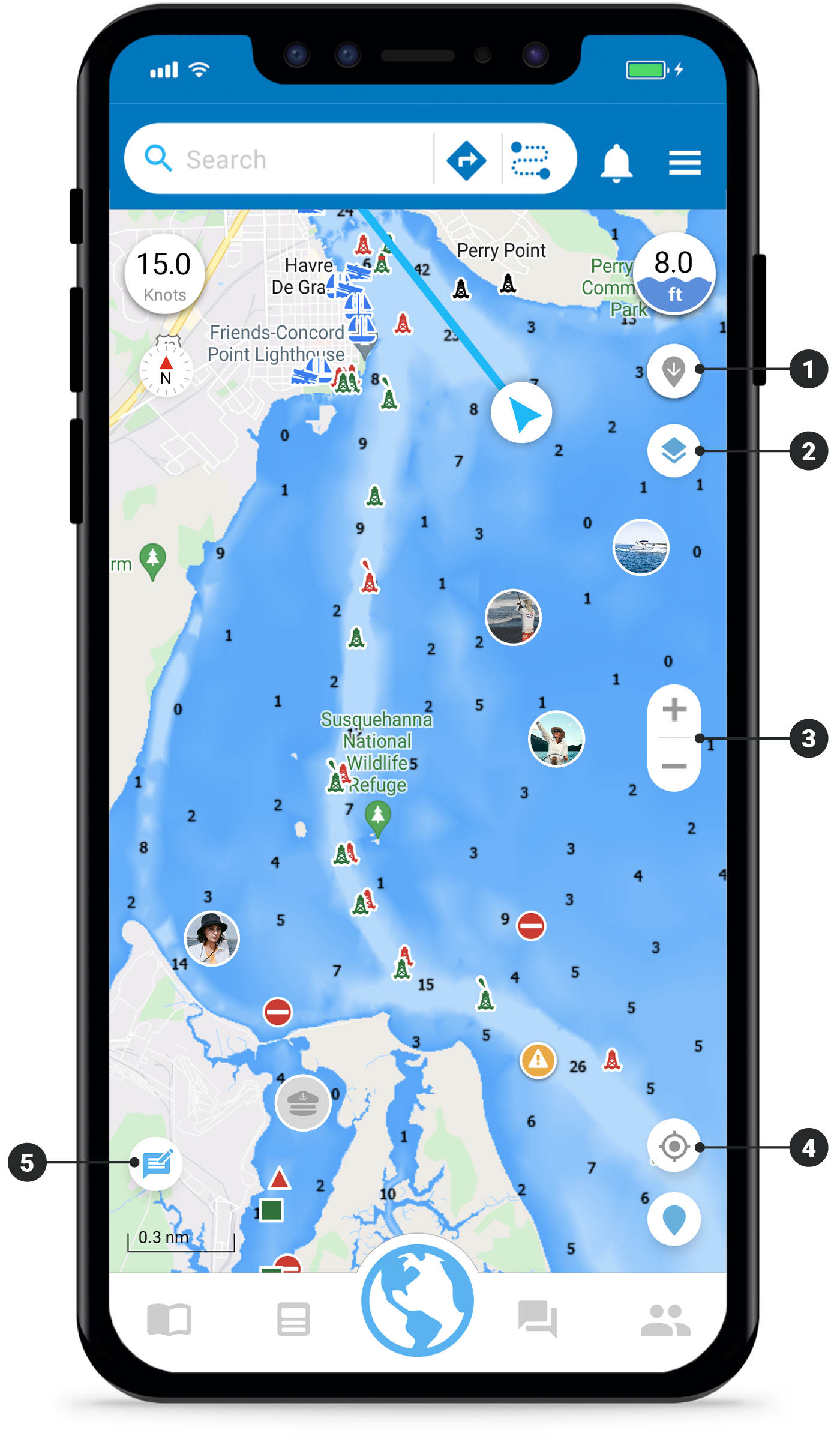 DEPTH FINDER
Tap this icon and then tap anywhere on the map to reveal the depth at that location.

MAP OPTIONS
Customize Argo's map to fit your needs. Filter out various report pins, map data, etc. Learn more…

ZOOM
This optional control lets you manually zoom in and out of the map.

RECENTER MAP
Tap this icon to center the map on your current location and to keep you in the center when enroute.

FEEDBACK
Send feedback to the Argo team. Let us know what you like, if something's not working properly, etc.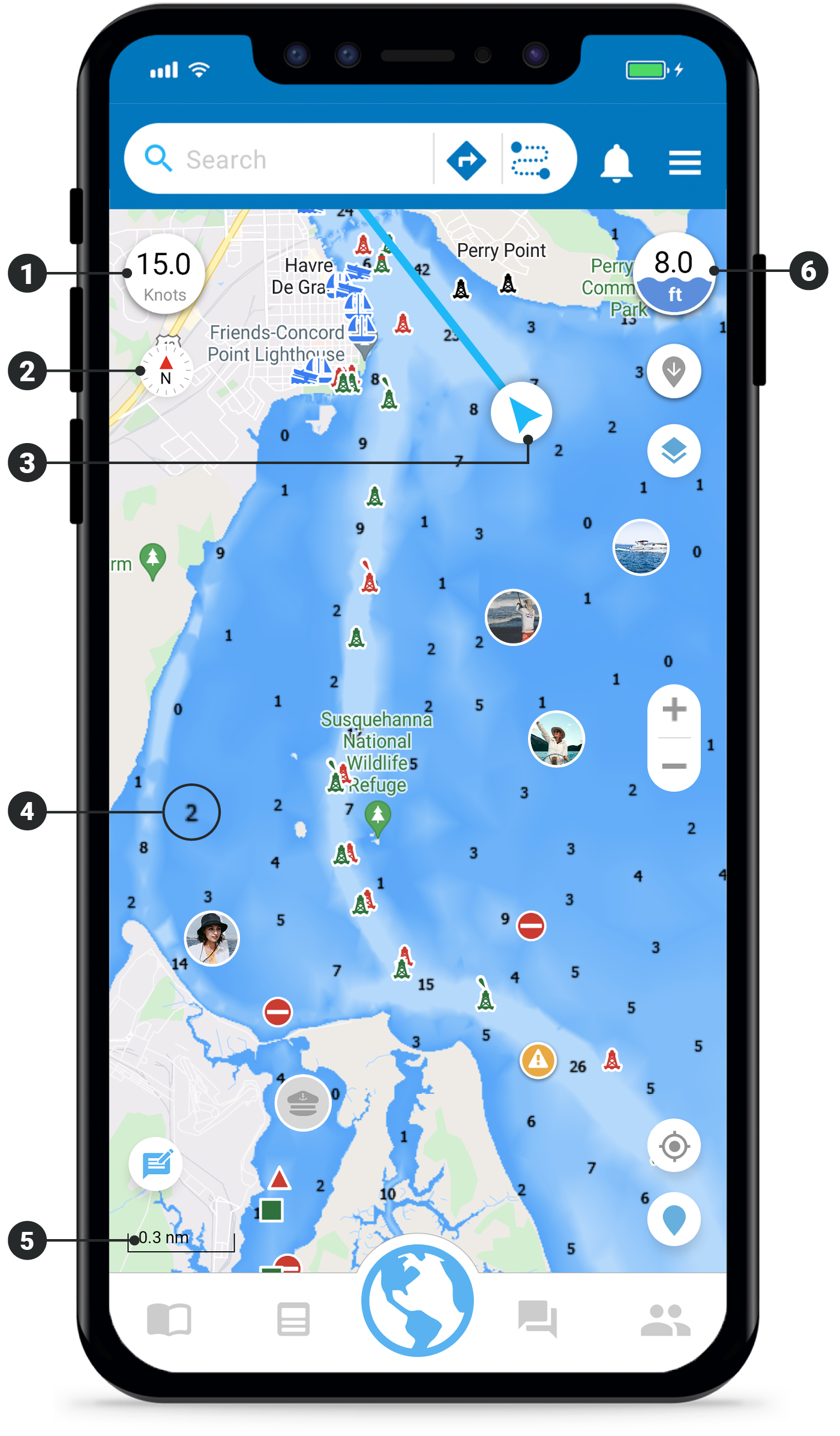 SPEED
Displays your current speed in knots, mph or kph.

COMPASS
Indicates north and tap on it to change map orientation from North Up to Course Up.

LOCATION INDICATOR
Shows your current location.  Tap on it to toggle a heading line on and off.

DEPTH LAYER
Displays depth numbers and color gradients on Google map views (Standard, Satellite and Terrain).

SCALE
Displays the distance scale of the map in nautical miles, statute miles or kilometers.

CURRENT DEPTH
Shows the depth at your current location. You can also view depth using various map options.