We're excited to announce that a big release hit the App Store and Google Play August 12, 2021 that includes a new Argo depth layer along with several other features and enhancements to the app.
What's New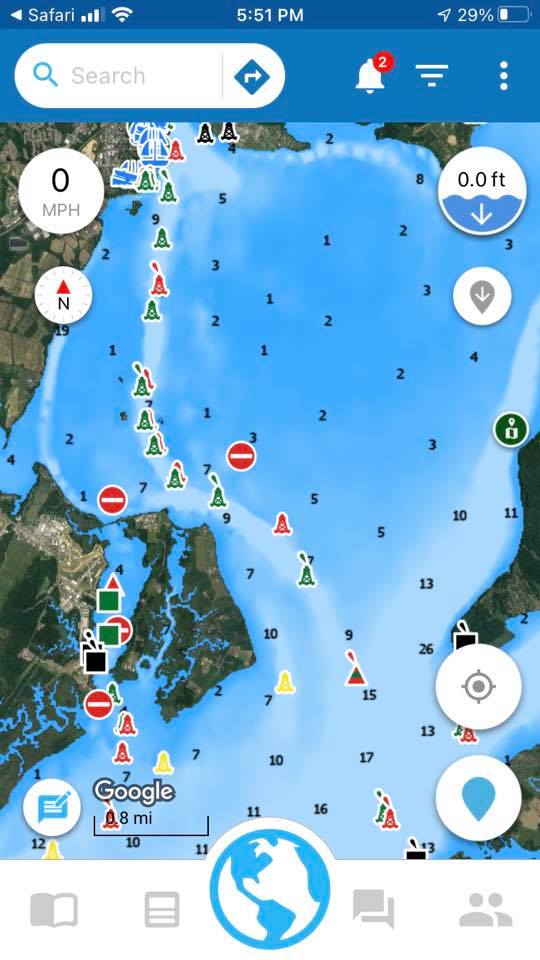 New Argo Depth Layer
Our new depth layer (shown here) contains depth numbers and color gradients highlighting both shallow and deep water. This initial version includes data from both NOAA and the U.S. Army Corp of Engineers (USACE), and in the future we plan to add data for lakes, rivers and Canadian waters.
And just like the NOAA ENC you can add this new layer to your Standard, Satellite or Terrain map types.
To access this layer tap the Map Options

icon, then choose Depth and select the new NOAA/USACE Depth Layer.
You can toggle between the New NOAA/USACE Depth Layer or the NOAA ENC Depth Layer to see either layer on your various map views. The NOAA ENC and NOAA RNC options are specifically NOAA charts and the new layer is not displayed on these charts.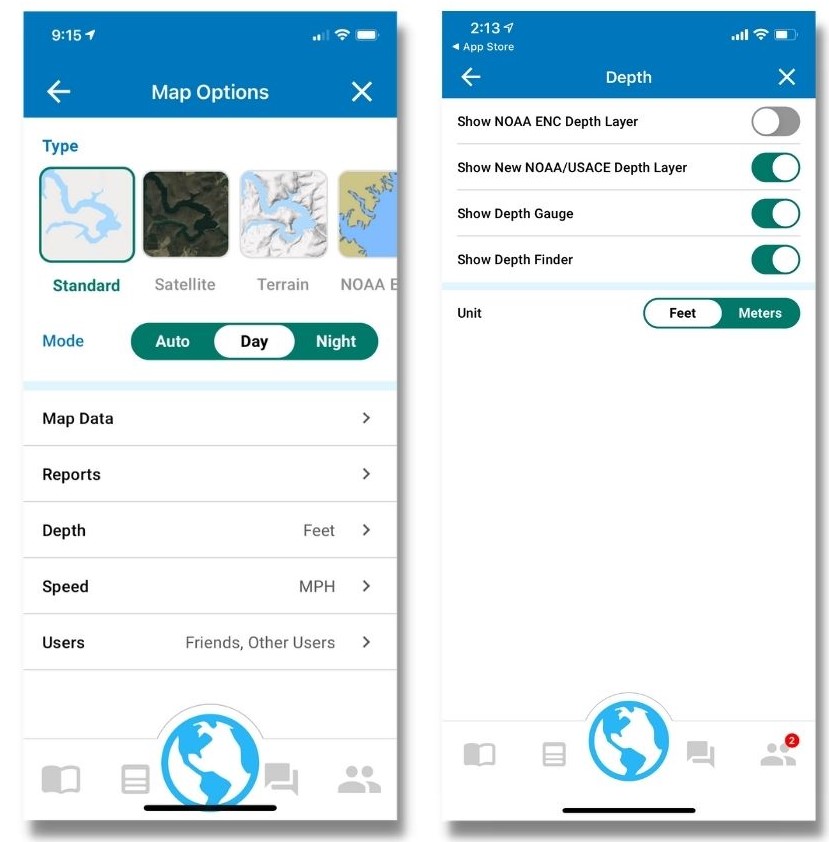 Friends ETA Sharing
Ever wonder when your friends are due to arrive at a destination? Your friends can now share their ETA (estimated time of arrival) with you when enroute. Make sure your friend turns on their ETA Sharing within User Location Settings, and then just tap on their profile photo on the map to view their ETA. And of course you can share your ETA with friends the same way!
New Background Permissions
Ever switch between Argo and your camera or another app during a cruise and then find that your track is a little off? Argo now has the ability to continue building your track during a voyage even if the app is in the background.
Action Required: Argo's Location Settings on your device should be set to "Always Allow" versus "While Using the App". If you are prompted for this you should agree in order for Argo to offer you the most accurate boating experience.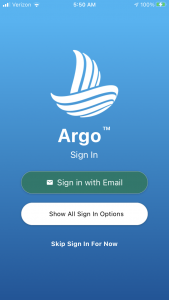 Sign in Method Assistance
When you first log into Argo you have several options to sign in, but if you ever log out you might forget which option you used!
Argo will now show you the method you last used as the primary sign-in option (rather than listing all 4 methods) to make it easier to log back into the app.
More Updates
Here are a few more updates you can expect to see in this release:
Trip's Average Speed – you'll now see your trip's average speed within the voyage details of your Captain's Log.
Global Notifications – special announcements, like new features or current app issues, will now be made available as a post within your social feed so you can stay updated on the latest with Argo.
We are continuously improving Argo and adding new features, so you'll see frequent updates to the app. Unless your device is set up to automatically update your apps, you will need to go to the App or Play Store and Update the app. You should not have to delete, just update.
To keep up with details on the latest new app releases, you can read our weekly emails or join our Argo Boating Community Facebook Group.