Florida boater Mary Jo uses Argo to connect with friends, share memories, and safely navigate Sunshine State waterways
If you have ever been to Florida, you know you will find friendly faces, warm weather, and plenty of fantastic boating opportunities. Sometimes, however, boating conditions can be treacherous, especially after storms roll through. Having Argo to mark potential hazards can be a big help to other boaters on the water, as we heard from avid Argo user Mary Jo.
Mary Jo is a pontoon boater from Lake County, Florida, and she reached out to us to let us know how much she was enjoying social features of the app, as well as how the navigation features are helping her safely explore Florida's waterways. She has been boating for over 30 years and had been searching for an app that would help her seamlessly connect with friends and navigate simultaneously. 
We caught up with Mary Jo to hear about her experience with Argo. 
Q&A with Argo boater Mary Jo
Argo: Where do you typically go out on your boat?
Mary Jo: "We are in the central part of Florida in Lake County with two or three chains of freshwater lakes all around and the St. John's River which connects us to the ocean. We are looking forward to doing longer trips on our 24' pontoon boat someday, but in the meantime, we're just enjoying the local lakes – there are so many lakes and so many places to go!"
A: What made you choose Argo?
MJ: "I was pretty excited when I found Argo because it is so user-friendly. We're still trying to figure out the fish finder/GPS system we have, we have to go through mounds of instructions online to figure out how to use it, but even then it does so many things it's still really difficult. I feel the tools complement each other, and Argo is great for a casual afternoon of exploring."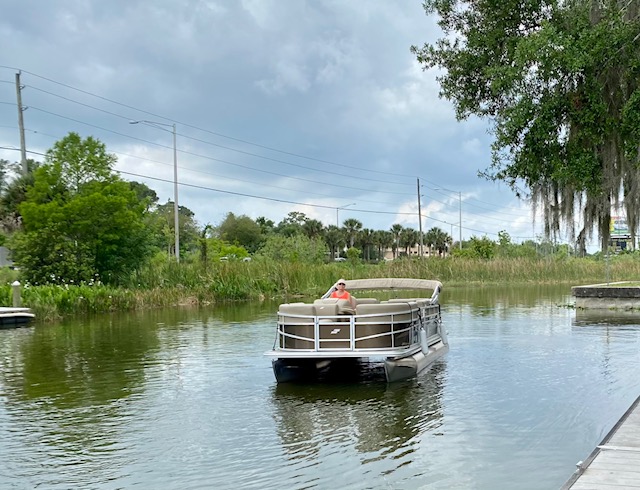 A: How do you use Argo?
MJ: "If you're in a car, one person is looking at the map and seeing what's up ahead, and the other person is driving and following directions. That's kind of the same way we use Argo. The captain is driving and watching where he's going, but I'm using Argo to figure out what's next and what to explore. As co-pilot/navigator, I can be involved and don't have to stand behind the wheel to see where we're going. In that regard, it's pretty cool."
A: What are a few Argo features that make it fun to use?
MJ: "I love the social aspect of the app. There are a lot of people who live on water here and it's cool to mark where they live and connect. With other social apps, you have to tell the whole world you're out on your boat. With Argo you can just tell your Argo friends – that's a great feature. We belong to a yacht club, and it's really cool if everyone's on at the same time; you know who's coming to a meet-up, you know where they are, how much longer until they get to where your raft-up is going to be, it can be advantageous if everyone is on at the same time. I'm working on introducing Argo to everyone. I also love that I can save trips and post pictures of where I've been."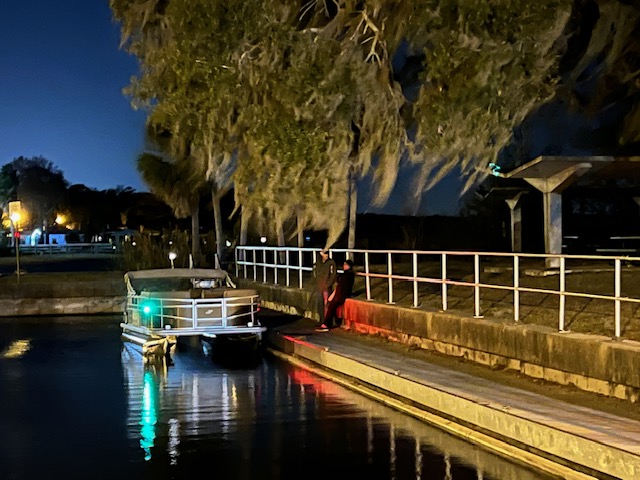 A: How has Argo has helped you out on the water?
MJ: "Argo has been great at reducing stress and helping me avoid hazards. The app now offers depth information for most of our local lakes, which will certainly help people avoid getting stuck, ruining propellers, or getting banged up in rocks. Also, there are a lot of hazards under the water, particularly after storms, that people don't know are there. On a recent trip, we barely passed something protruding out of water – we couldn't tell what it was, it wasn't moving and it wasn't on any chart. But I marked it as a potential hazard just like you would on Waze. So the next person using Argo comes along will see it and be aware so they don't scrape the bottom of their boat on it."
A: What would you tell a friend about Argo?
MJ: "It's a really cool navigation app that's easy to use because so much of it is similar to what we're used to on other land-based routing apps already. I also love that Argo is a small company and that the founder has been incredibly responsive to people's needs and feedback, and that is so important. When I messaged him that a particular boat ramp wasn't on the Argo map, he had it posted within two hours. They are really interested in making it a user-friendly app."