New Argo features now live with ability to Ahoy boaters and more navigation functionality
The latest release of Argo hit the App Store and Google Play Friday, June 4 with lots of exciting new social & navigation features!
What's New
We've added new social boating features that allow you to communicate and connect with more boaters using the Argo app:
New Ahoy! feature to say hello to fellow boaters you see on the app
New Mes­sage Re­quest fea­ture to start con­ver­sa­tions with non-friends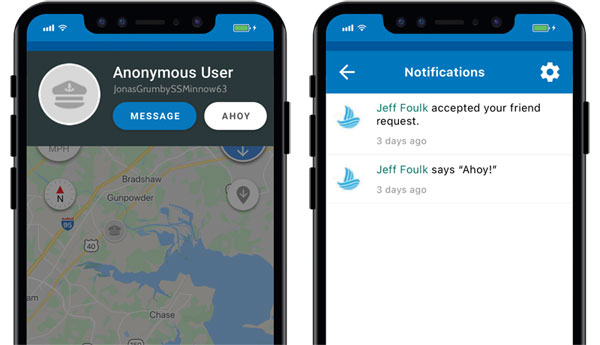 Tutorial:

See Message & Ahoy Tutorial for more step-by-step instructions with screenshots.
We also added a few navigation enhancements to make viewing routes easier:
New Com­pass but­ton with con­trol of map ori­en­ta­tion
New Map Scale in­di­ca­tor
Routes now col­or-cod­ed with­in the Cap­tain's Log
We are working on MORE updates in the next release coming soon!
QUICK TIP:

To send an Ahoy or Message to a boater, click on their profile image on the map (or captain's hat icon if a non-friend) to see both options. To friend someone new, click on the Friends icon and find them under the Add Friends tab or by using the Friends Search button. On their profile you'll see options to Add Friend, Message or Ahoy!